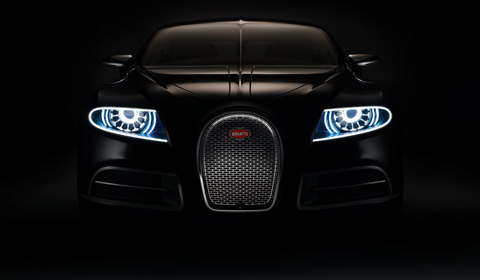 Succeeding the Bugatti Veyron will always be a difficult task for Bugatti engineers. The Veyron has been described as an engineering pinnacle by most who have driven it. Being the fastest car in the world, the only way to build something better would be either to make it faster or to move market segment. The later is exactly the intention Bugatti formed with the Bugatti Galibier Concept.
It seems that while Bugatti are putting the finishing touches to the Veyron production run, they are also thinking about the future. Today a video was released teasing the Bugatti Galibier 16C, the first time Bugatti have released new material for the four-seater in almost two years! Rumours have been floating around since and the time delay obviously hints at a redesign.
The car you see in the video is the same car from the official release. This means the video might simply be to garner more interest in the Galibier, or as a teaser in advance of further information in the near future. Rumours had suggested that Bugatti boss Wolfgang Dürheimer was not entirely convinced by the current design of the limousine and returned the car to the drawing boards.
The Galibier will be outfitted with the sixteen-cylinder engine from the Bugatti Veyron producing between 800hp and 1,000hp. A hybrid version will also be made available. Bugatti plans for a series of 500 to 1,500 units and Dürheimer has hinted at a price tage of more than € 1,000,000, but nothing has been officially set yet.