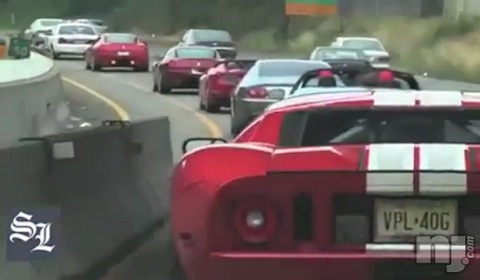 New Jersey Police are investigating a number of officers over a high-speed escort given to supercar owners last month. The police force suspended two troopers without pay and reassigned a station commander yesterday in reaction to the backlash caused by a police escort down the Garden State Parkway to Atlantic City last month.
Complaints from members of the public reveal that the cars traveled at speeds of over 100mph led at the front and rear by state troopers. Also under investigation is a 2010 incident, filmed by a YouTube user which shows cars travelling at speeds of over 120mph. The investigation is still ongoing and the New Jersey police force are looking at charging those officers involved.
It appears that the supercar run was organised by former New York Giants star Brandon Jacobs. The event happened on March 30th when a convoy of around two dozen Lamborghinis, Porsches, Ferraris and other supercars hit the roads in convoy behind the state trooper. The video below is the source of the 2010 complaints.