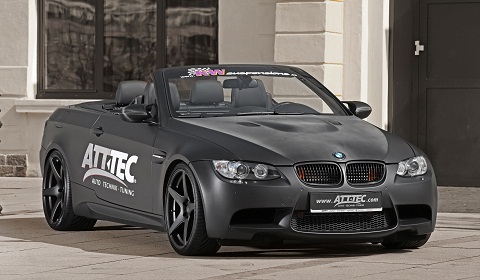 ATT-TEC released details of a tuning package for the E93 BMW M3 today. The German tuning company from the city of Rastatt in Baden revealed a matt black M3 Cabriolet fitted with a range of enhancements breathing new life into the engine and the E93 M3's cosmetic appearance.
Starting in the engine bay, you'll see from the photos that ATT-TEC fitted the SK I Supercharger System from the German powerhouse, G-Power. This kit increases peak power outputs to 520hp, adding a new ASA T1-521 supercharger, a new single flow sport air filter system, 8 colder racing spark plugs and a new ECU kit custom modifying the engine and gearbox electronics. All in, the cost for that modification is €11,430.00 with a further €1,310.00 required for fitting.
A new exhaust system features 2 x 90 mm diameter stainless steel baffles costing €1,455.00 and €140.00 for the installation. The wheels are from market-leader ADV.1. The one-piece fix spoke, concave design, known as the ADV.1 5.1, gets a matt black finish to match the paint work. They measure 8,5×20 inches on the front axle and 11×20 inches at the rear. €7,150.00 will get you these with Vredestein Ultrac Sessanta tyres measuring 245/30R20 at the front and 295/20R20 at the rear.
The suspension has KW's Inox Line III Variant track coilovers.with independently adjustable rebound and 14-way adjustable compression damping. A further €1,929.00 gets you these, in conjunction with a wheel alignment, these rise up to €559.00.
The final modification is ATT-TEC's carbon wrapping foil costing €2,600.00. This makes the modifications to the car you see in front of you worth around €26,573.00 with all TUV certificates available. Obviously this is a unique car so don't expect to see more than one leave ATT-TEC's workshop. Still, there's plenty of options here for those wanting to embark on a similar unique project with the German tuner!