Audi in Italy will enter the 2012 International Superstars Series with the Audi RS5. The old RS4 gave Audi Sport Italia two drivers championship titles with Gianni Morbidelli in 2007 and 2008. It won also the teams title in 2008.
The racing car has to be closely related to its road version, so it will have a big V8 producing around 450bhp. Three new Audi RS5 cars are set to join the 2012 season from three different teams. Two time Superstars Series champion Gianni Morbidelli will be the leading driver with Audi Sport Italia. The program is of course backed by Audi Italia the official Italian dealer.
The other two drivers aren't Italians. Johan Kristofferson from Sweden will race for Kristofferson Motorsport (KMS) a Swedish team. While Thomas Schoeffler from Germany, will race for MTM Motorsport, the famous German Audi tuner.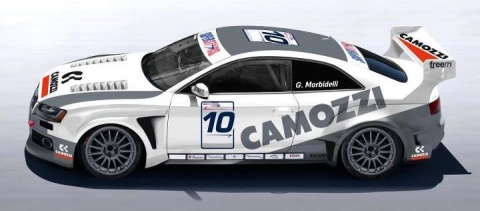 The 2012 season will be very close more than ever, with no less than 34 cars on the full season competitors list. Audi will face strong competition from marks such as the 2011 BMW, AMG Mercedes-Benz, Cadillac, Chevrolet and more. In addition to the top three Audi Italia supported RS5 there will be three old RS4 in hands of the privateer Durango Motorsport team.
Nine races are scheduled for the 2012 season. Hankook will be the new exclusive tire supplier. The Season opener and RS5 debut is set at Monza on April 1st.
[Via Audi Motorsport Blog]