More information regarding the Porsche 918 Spyder has emerged. The planned plug-in hybrid supercar will feature a larger V8 and fewer electric motors.
The latest edition of Porsche's own Christophorus Magazine reports about the development of the upcoming Porsche supercar. It is reported that the production version of the 918 Spyder will be unveiled at the 2013 Frankfurt Motor Show. The flagship of the Porsche fleet will feature some changes compared to the concept car which debuted at the Geneva Auto Salon in 2010.
The biggest change is under the bonnet, where the displacement of the V8 for the Porsche 918 has been increased from 3.4 up to 4.6 liter. This engine is based on the MR6 3.4 liter V8 normally aspirated mid-engine from the Porsche RS Spyder LMP2 race car, which has proven itself in endurance racing.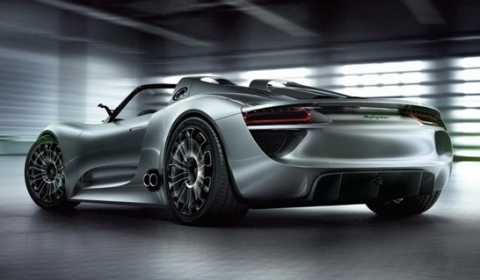 Christophorus Magazine also writes the engine will come with a lot of new technologies:
The 918 Spyder features a central injector mounted directly adjacent to the spark plug, a central oil feed to the crankshaft, a variable-pressure composite oil pump and scavenge pump, forged lightweight pistons from a Formula 1 supplier, a very high compression ratio, and — a Porsche first — variable valve timing with intake and exhaust phase stepper motors.
The amount of power provided by this engine is reportedly 550 horsepower, which is 50 more than initially planned. Whereas the concept 918 was planned with three electric motors, the production version will be supplemented by two electric motors delivering an additional 230 horsepower. The total output will be 780 horsepower.
With an reported dry weight of below the 1675 kilos, the Porsche 918 Spyder will deliver a power to weight ratio of 2.15 kg/hp. By comparison, the Lamborghini Aventador has a power to weight ratio of 2.25 kg/hp. But we have to wait until 2013 to see how these figures will translate into real-life performance.
Porsche 918 Spyder at the 2010 Geneva Auto Salon

[Via Teamspeed and Motorauthority]