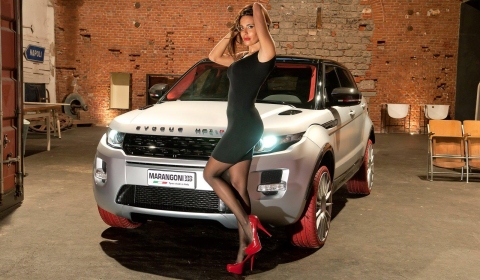 The Italian tyre manufacturer's latest show car is this Marangoni Range Rover Evoque HFI-R released at the 2011 Bologna Motor Show today. Marangoni developed "M-Power EvoRed", a special set of 20 inch ruby red coloured tyres, especially for this new show car.
The Marangoni Evoque HFI-R, based on a Si4 2.0 Turbo petrol engine model, has been tuned to deliver 300bhp and runs on a combined hydrogen and natural gas technology. The HFI (Hybrid Fuel Injection) system can be supplied with hydrogen-natural gas mixes in varying percentages, as well as natural gas only.
The bodywork of the car has been completely repainted. The roof and pillars are gloss black, while the main body of the car uses a special paint, called Titanium Fluid Metal. This has a very fine grain that when combined with 100 percent matte clear coat offers tones of satin aluminium that change effect based on light exposure, with sensational results.
The front bumper has been redesigned, making the bottom centre intake wider, typical of more sporting cars. The aluminium bonnet has been fitted with the air intakes as seen on the coupe versions, while the rear bumper has been completely modified, removing the two evident rear fog lights on the sides and adding a carbon fiber diffuser.
Carbon has also been used to make the wheel arches, the air intakes in the wheel wells, the boot handle, all the bottom door guards and the mirror covers. The latter also feature small Italian flags that continue the line of the integrated side indicators. Certain parts, such as the front grill, the air intakes on the bonnet and door handles, have been painted gloss black to create contrast with the matte titanium body.
The standard braking system has been replaced with Tarox B360 10-pot calipers and composite disks, with 330×26 diameter brake rotors. The ruby red Marangoni "M-Power EvoRed" tyres in 255/30R20 size are fitted on Oz Racing Dakar 8.5×20 rims.
Complimenting the new design is the car's interior, provided by the Italian fashion brand Conte of Florence, which gives the car a sporting and at the same time elegant soul.