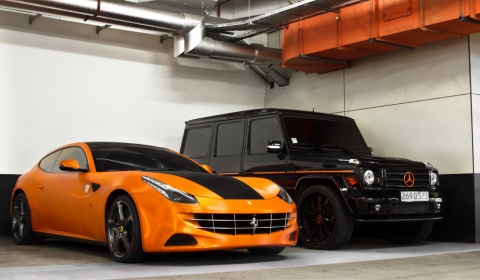 True petrolheads will know the person behind the RRR signature and his collection with Orange/Black trimmed cars. RRR stands for Rich In Real Estate Resources and the cars are owned by the Sheik of Ajman, also known under the name Sheikh Humaid bin Rashid Al Nuaimi.
This person owns/owned cars like an Audi R8, Rolls-Royce Phantom, Gemballa Avalanche, Bugatti Veyron and a Pagani Zonda F Roadster, all dressed in the same Orange/Black exterior trim. His latest additions are a Mercedes-Benz G55 AMG and Ferrari FF – both four wheel drive.
YouTube members Munch997 and Shmee150 spotted the duo parked in an underground garage. You can check their videos below. Picture via Alex Penfold.