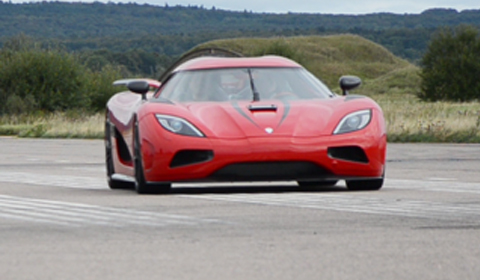 Swedish supercar manufacturer Koenigsegg has received official Guinness approval for its 0-300-0 km/h record time after their record runs at the beginning of September.
On the second of September 2011 at 12.08pm a standard Koenigsegg Agera R took several new production car world records at the Koenigsegg proving ground in Ängelholm, Sweden. The final 0-300-0km/h time was only 21.19 seconds. Christian von Koenigsegg was very pleased that the Agera R received this acknowledgement from Guinness and said:
We had high hopes when we set out to do this record. But the end result was truly astonishing. This is Koenigsegg´s 4th Guinness World Record since 2003 and it show our continued commitment to build Hypercars that deliver beyond expectations.
Our friends at GTBoard shared several videos of the record run already a day after the event. You can check them out right here.
The Agera R also set several other new production car world records for acceleration and retardation. The new times set by the Agera R are:
0-300km/h = 14.53sec
0-200mph = 17.68sec
300-0km/h = 6.66sec
200-0mph = 7.28sec
0-300-0km/h = 21.19sec
0-200-0mp/h = 24.96sec
All the data from the runs was collected by a third party on the officially accepted Racelogic VBox performance recorder, and was submitted to the Guinness Book of World Records. Up to know only the 0-300-0km/h has been officially certificated.