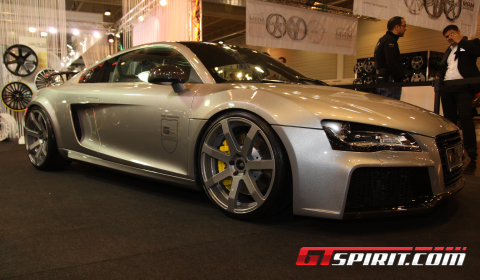 As a surprise we bumped into the Audi R8 Toxique by TC Concepts at the Essen Motor Show 2011 stand of Barracuda and Corniche rims.
The program includes a body kit, new wheels and a stainless steel cat-back exhaust with valve flaps, R8 GT LED Rear lights, a rear wing and a choice of H&R springs for the cars suspension.
The full aerodynamic kit includes body parts in the companies RS design. These include a new front bumper and grille, side skirts, rear side panels to widen and increase air flow to the engine and a rear bumper with integrated diffuser.
On the inside the R8 got carbon fiber trims in the dashboard, steering wheel, seats and door panels.
Official images Audi R8 Toxique by TC Concepts