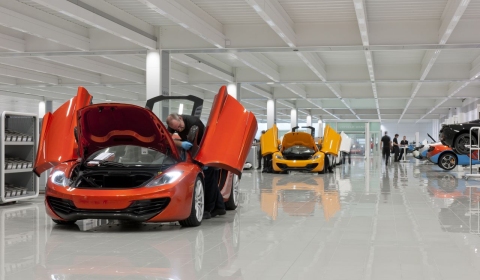 McLaren Group Executive Chairman Ron Dennis and McLaren Automotive Managing Director present the new McLaren Production Centre; the birthplace of all future sports cars from McLaren Automotive.
On November 17th McLaren Group CEO and McLaren Automotive Executive Chairman Ron Dennis welcomed the Prime Minister Rt. Hon. David Cameron MP to open the newest addition to McLaren headquarters in Woking, Surrey – the McLaren Production Centre (MPC).
The MPC will house the manufacturing operations for the new MP4-12C sports car, and at peak production it will be possible to build a car in five days and a new MP4-12C will join the line every 45 minutes. The MPC shares its design philosophy with the McLaren Technology Centre (MTC), to which it is connected by a 100m tunnel.