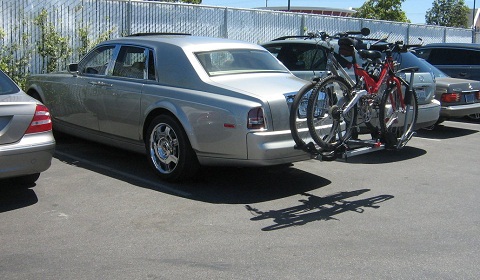 Last month, our friends over at Luxury4Play have been talking about luxury cars with bike racks attached to the back. Specifically, the conversation was started by a member spotting a Rolls Royce Phantom sporting a couple of road bikes on the streets of LA. Naturally, we wanted to find out if this was a wide-spread trend among Phantom owners.
We've been trawling the web and we've come up with a few pictures on Rolls Royces and owners who use their cars to transport a bike. Unsurprisingly, very few pictures exist of these utility-Rolls. However, we did manage to find a picture of another Phantom carrying a couple of mountain bikes. Similarly, a classic Rolls-Royce was pictured carrying a bike rack in the US a while back. Our final couple of pictures shows the Phantom Drophead Coupé parked up in Beverly Hills carrying what looks to be a rather expensive mountain bike on a tow-bar mounted bike rack. If you look closely, you'll even be able to make out the disabled badge in the windscreen!
However, we didn't stop there. After searching for Rolls-Royce bike carriers, we wondered what other cars had been converted for the purpose. The answer is, quite a few. We managed to find Lamborghini Gallardos, Ferrari F355, a couple of Lotus, a Honda NSX, a Bentley Continental Flying Spur and a Ferrari F40.
Take a look at both galleries and let us know what you think. If you can find any more interesting cars with bike racks attached then link us to the picture in the comments box below!