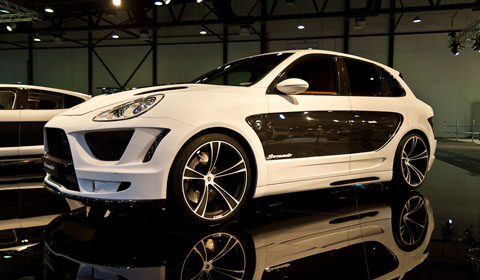 Gemballa presented the package for the Tornado based on the Porsche Cayenne at the 2011 Dubai Motor Show. The Tornado made its first public appearance at Top Marques 2011 in Monaco. The luxurious and powerful SUV was made to celebrate the company's 30th anniversary. Only 30 numbered Gemballa Tornado cars will be built, making this a very special and exclusive model.
The Gemballa Tornado received a near-complete reconstruction of their outer bodyshells, with the majority of the steel panels replaced by light and strong carbon-fibre. These carbon panels, which include the bonnet, front wings, doors, front and rear bumper/valance, reduces the weight 70kg.
The big wheel arches are filled with 22-inch multi-spoke alloy wheels. Forged rather than cast, these wheels are stronger than the original 20-inch equivalents, but are around the same weight.
The German tuner offers different stages of performance upgrades for the Porsche SUV. The first stage of power upgrade for the twin-turbo V8 engine provides and 850Nm of torque. The second stage is more impressive, which gives the car 721hp, and around 1,000Nm of torque. This significant output is achieved through the use of larger turbochargers, a modified intake system, high efficiency intercoolers, sports exhaust, free-flow catalytic converters and bespoke ECU remapping.
For more information about the powerful German SUV click here.
Gemballa Tornado at the Dubai Motor Show 2011
Gemballa Tornado at Top Marques 2011
Video of the Gemballa Tornado at the Dubai Motor Show 2011
[Photos by Sam Moores for GTspirit.com]