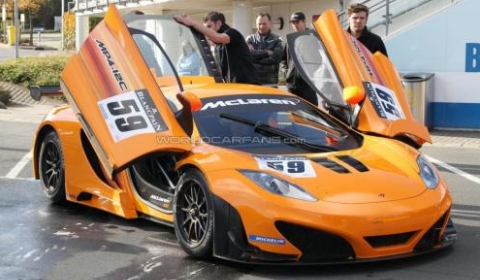 McLaren is preparing for the 2012 racing season with three MP4-12C GT3s being snapped at the Nürburgring.
The MP4-12C GT3 features the same 'M838T' twin turbo 3.8 liter McLaren V8 engine found in the road going car, only it has been de-tuned to 500PS, and limited to 7,500rpm, to provide optimum performance. McLaren's carbon fiber MonoCell with aluminium front and rear frames and bespoke carbon body panels provides the basis for it.
The GT uses a six-speed sequential gearbox with actuation via the steering wheel mounted paddles. Aerodynamic modifications are minimal as the car was developed alongside the street legal MP4-12C, but they do allow the car more downforce.
For more pictures check WorldCarFans.