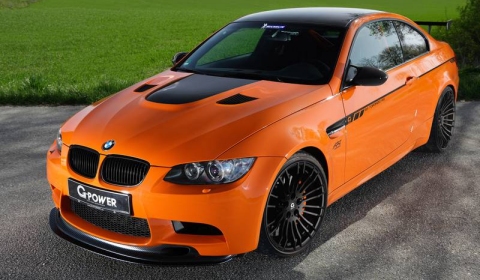 German tuner G-Power has released their latest upgrade program for the BWM M3 GTS offering a supercharged V8 with an astonishing output of 720hp.
G-Power fitted numerous technical parts to the engine including a powerful ASA T1-723 supercharger. A titanium exhaust system ensures that exhaust gases are discharged quickly and with minimum back pressure. This system features free-flowing 100 cpsi metallic catalytic converters.
The G-Power M3 Tornado RS produces a peak output of 720hp and 700Nm of torque. That is enough to catapult the sports car to 100km/h in just 3.7 seconds. From a standstill to 200km/h it takes just 9.5 seconds. Power and drag reach equilibrium at a maximum speed in excess of 330km/h.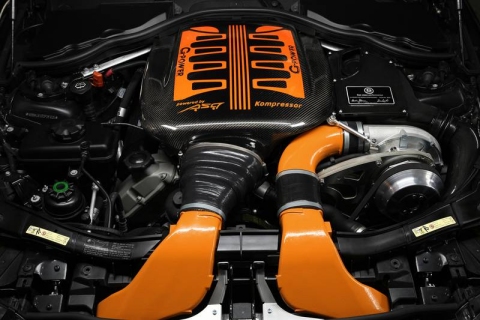 G-Power added a RS-labeled aerodynamics program to the orange M3 GTS. This aerodynamic program, made completely of carbon fiber, not only reduces the vehicle weight, but also increases the aerodynamic downforce. To be specific, it offers a carbon front spoiler for more downforce with optional brake cooling ducts for ventilation on the front axle, while a trunk lid, made entirely of carbon fiber and including three-piece carbon rear spoiler, increases the downforce on the rear axle.
The carbon fiber Venturi hood also contributes to reduced weight. The Dynamic Venting Technology of the hood vents the engine compartment dynamically, allowing the otherwise untapped performance potential to be achieved with no additional thermal stress. Performance enhancement can not be supported more efficiently.
When it comes to suspension systems, the M3 Tornado RS is fitted with the Clubsport coil-over suspension and weight-optimized 20 inch G-Power Silverstone Clubsport forged wheels. The tires are Michelin Super Sport tires in the dimension 255/30 ZR20 on the front axle and 295/25 ZR20 for the rear axle to keep the vehicle in contact with the road. Braking is done with the ceramic brakes on the front and rear axle, which provide low-weight and reliable high-performance braking. The brake kit features six-piston brake calipers in front which bite on 396mm rotors and four-piston calipers at the rear axle which clamp on 380mm rotors.