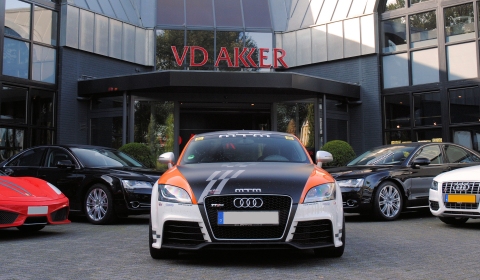 "We really want to thank you for the wonderful day together, a great organization!" said one of the 50 participants of the Tour of Taste 2011, organized by the VD Akker, dealership in luxury vehicles.
For the third year in a row nearly thirty cars left early in the morning from Best, the Netherlands for a culinary first stop, a unique restaurant in an authentic farm in Vlierden. The route took participants through the beautiful nature. The end of stage 2 was at a runway of a private airfield. The so-called "Vd Akker Quarter Mile Race" included two participants, and a wide variety of cars like a Ferrari F430, Audi R8 V10 and a MTM tuned A8 4.2TDI.
Stage 3 was a beautiful route through the National Park De Groote Peel and eventually brought the participants to a castle, the last inhabited castle in the Netherlands, dating from the 12th century. The last stage was a short but fun ride to Eindhoven.