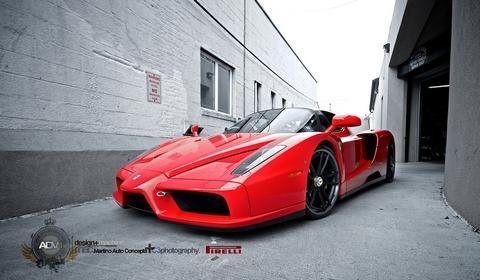 When you own one of the most amazing supercars made during the last century you mostly don't think about bringing it to a tuner. For some reason an American owner couldn't resist of talking to the guys from ADV.1 Wheels. Although they weren't really sure about tuning an Enzo themselves they once again created something amazing. This Ferrari Enzo sitting on a set of ADV5.2SL.
The lightweight model is vehicle specific in terms of design and load rating in order to get the lowest possible weight based on the load rating of the vehicle it's intended for. In this case the Enzo, however without enough time to engineer them to be as light as they really could be by testing sample pieces for load rating analysis this set was beefed up for safety purposes.
A nice set of rims of course comes together with good tires, therefore the guys from ADV.1 chose for a set of Pirelli's with size 375/20/21 in the rear. The wheel was designed around the massive rear in a 21×13 size with a 20×8.5 front using their 245/30/20. Once the wheel finish was done they've added the polished gunmetal lip/matte black center combination for this project as it's subtle yet at the same time different from what you'd normally see.
[Via ADV.1]