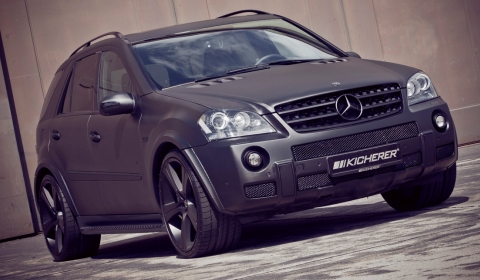 Kicherer has created a conversion for the Mercedes-Benz ML63 AMG, named the Kicherer Mercedes-Benz ML63 Carbon Series. The program includes a black carbon foil, performance increase, exclusive wheel/tyre combinations and some other carbon fiber parts.
The ML63 AMG with a performance increase to 540hp, with a new maximum torque at a full 640Nm. In addition to the new acceleration values, this power also provides for a maximum speed far in excess of 250km/h. Additionally, a specially developed stainless steel sports exhaust system and a Kicherer PowerConverter were installed. With a carbon edition exterior package, the ML63 appears uni-coloured. All cover elements have been refined in the most exclusive foil currently available.
Gigantic 23 inch wheels rotate in the wheel cases of the sports SUV. They are combined with the electronic chassis adjustment. For the passenger space, the Germans offers a fine interior set in carbon-leather and alcantara.