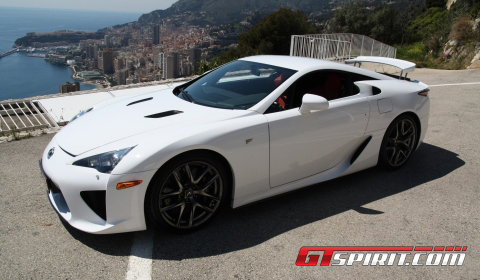 A lot of information on future sports cars came out of Lexus whilst we were offline. Rumours suggest that the planned LFA Roadster will not see the light of day. For those who have been keeping up with Lexus' LFA project, this will not come as a surprise. However, with this unfortunate news comes better news in the form of an LFA Tokyo Edition. A limited edition LFA model due for the 2011 Tokyo Motor Show later this year.
The new special edition appears to feature just one modification; an exposed carbon fiber roof. Lexus plan to release the car with more exposed carbon fiber than we have seen before on any Lexus. This will see the roof and the spoiler covered in exposed examples of the lightweight material. Lexus will charge customers around € 40k extra on top of the LFA's current € 375,000 price tag.
So why the Tokyo special edition and not a new Roadster model? We think much of it comes down to economic circumstances. It's widely known that Lexus have produced the LFA as a loss-making product. Between December, when the car entered production and March of last year, 90 cars left the factory. Lexus produces around 15 cars per month at the moment, 5 short of the 20 car target it set itself last year. The production run is 500 cars which means that Lexus will be producing the car until late 2013.
Despite rumours, Lexus themselves admit that they have not sold all of the production supercar slots yet. So we suspect, simply, that demand is low for the LFA and Lexus see that offering a Roadster would expose them to a further level of loses. All this is unfortunate. We've got to experience both the LFA and the LFA Nurburgring Edition and we loved them!
Here's to hoping that Lexus have something more than a carbon fiber roof to show us before the LFA disappears for good!