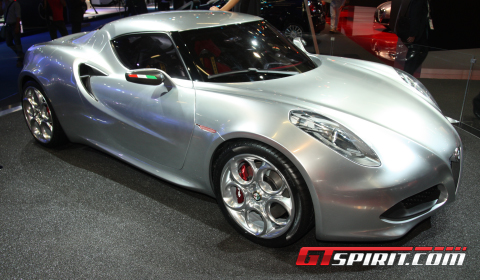 Italian car maker Alfa Romeo has revealed their new Fluid Metal Alfa Romeo 4C Concept at the 64th International Motor Show, the IAA in Frankfurt, Germany. The release follows after initial pictures made at the stand, which passed by this weekend and the release of vehicle at the Geneva Motor Show 2011.
The pictures of the Italian sports car show the new exterior and interior trim of the 850kg sports car. The 65-horsepower 1.750 TBi engine mated to a TCT twin dry clutch and offers more than 200bhp and a power to weight ratio less than 4kg per hp – bringing it into supercar territory.
The Alfa 4C Concept showcases the formula of the two-seater, rear-wheel drive coupé with its central engine, a length of approximately four meters and a wheelbase of less than 2.4 meters. It uses technology and materials derived from the 8C Competizione – carbon, aluminum, and rear-wheel drive.