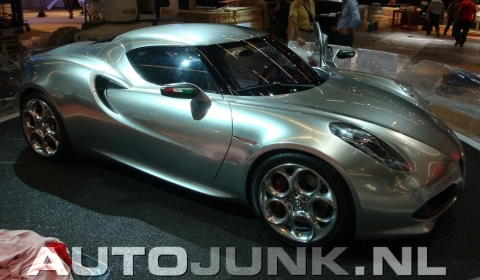 A member at Autoblog.nl managed to sneak into the hall where Alfa Romeo will display their latest vehicles. One of the sports cars on display is the Alfa Romeo 4C Concept. The Fluid Metal Alfa 4C Concept was photographed and we are able to share with you the first pictures.
In recent months the project has been refined and enriched with technical contents to enhance the dynamic excellence of the Alfa 4C Concept. Vehicle weight is confirmed at around 850kg, the engine delivering more than 200bhp and a power to weight ratio less than 4kg per hp – bringing it into supercar territory.
The power of the Alfa Romeo 4C GTA Concept comes from a 265-horsepower 1.750 TBi engine mated to a TCT twin dry clutch. The Alfa Romeo 4C goes from 0 to 100km/h in just five seconds and up to a maximum speed of 250km/h.
Clearly visible on the pictures, it is one of the first cars to enter the event, which opens its doors on Tuesday.