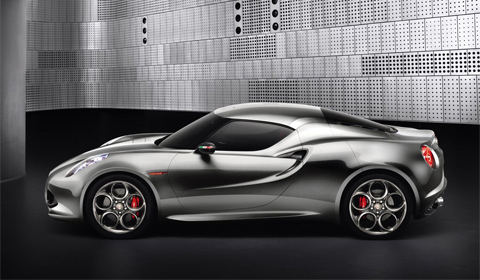 Alfa Romeo announced it will show a special Fluid Metal Alfa Romeo 4C Concept at the IAA Frankfurt Motor Show 2011 next month. After its international public debut at the Geneva Motor Show last April, the Alfa 4C Concept will be exhibited at the 64th International Motor Show in Frankfurt in a new and exclusive 'fluid metal' exterior color that dynamically enhances the smooth and sinuous lines of the car.
In recent months the project has been refined and enriched with technical contents to enhance the dynamic excellence of the Alfa 4C Concept. Vehicle weight is confirmed at around 850kg, the engine delivering more than 200bhp and a power to weight ratio less than 4kg per hp – bringing it into supercar territory.
The Alfa 4C Concept showcases the formula of the two-seater, rear-wheel drive coupé with its central engine, a length of approximately 4 meters and a wheelbase of less than 2.4 meters. These dimensions on the one hand emphasize the Alfa 4C Concept's compact attributes, whilst on the other accentuate its agility.
The Alfa 4C Concept uses technology and materials derived from the 8C Competizione – carbon, aluminum, rear-wheel drive – and technology from Alfa Romeo models currently on sale: the 1750 turbo petrol engine with direct injection, the ALFA TCT twin dry clutch transmission; and all the best of Alfa's DNA technology, obviously including the Alfa DNA dynamic control selector.