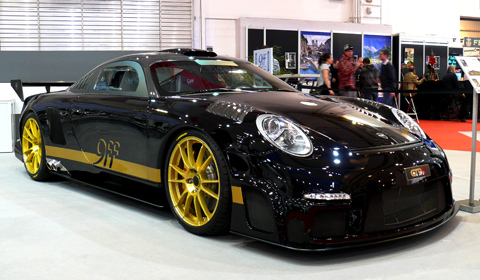 9ff Fahrzeugtechnik is a German car tuning company, which specializes in high-speed and powerful Porsche upgrades. One of the most impressive cars made by the Dortmund based company is the 9ff GT9 R. With a top speed of 418km/h and a production limited to twenty cars, the 9ff GT9 R is one of the fastest car and most exclusive cars in the world. One of these twenty cars is currently for sale.
The 9ff GT9 R is powered by a 4.0 liter six-cylinder boxer engine which is available in three stages. The GT9-R starts with a 750 horsepower engine, which is good for a maximum speed of 380km/h, an acceleration from 0-300km/h in twenty seconds, and is optimized for track performance.
The second stage of 987hp is build for track performance and high-speed racing. In the second stage, the car is able to reach a top speed of 409km/h while the acceleration from zero to 300km/h is done in 17 seconds.
In its most powerful form the 9ff GT9 R provides a whopping 1,120hp and 1,050Nm of torque. Thanks to this the GT9 R is capable to boosts itself from standstill to 100km/h in 2.9 seconds, the 200km/h mark will be reached within 7.4 seconds and the 300km/h is reached in 14.9 seconds.
The Porsche dealer in Dresden, Germany is offering the 9ff GT9 R in its more extreme form with 1,120 horsepower. The price tag of this record breaking car is € 695,000 excluding taxes, or € 827,050 including 19% German VAT. For more information contact Porsche Zentrum Dresden.
For more information about 9ff read our factory visit and click here.