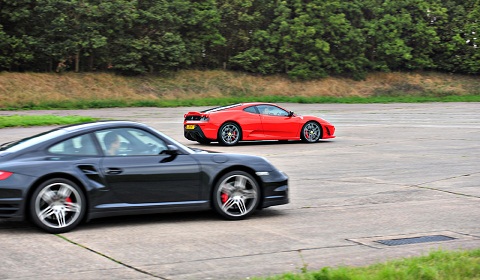 Yesterday we gave you a set of videos from the VMax Hammer event, today we've got the pictures for you! GFWilliams shot a set of photos to give us a nice overview of the atmosphere at the event. A mixture of cars turned up on the day with Ferrari, Porsche and Audi all being well represented.
As far as results go, here's a cross section of the fastest and most surprising speeds! The highest speed of the day went to a 997 GT2 with a 3.9 liter engine conversion, it hit 209mph. An Audi S4 Widebody hit 204.4mph, the white Nissan GTR managed 202mph, the 599 GTO managed 198mph and the CLK DTM AMG reached a respectable 184mph. The most craziest run? A 156mph Audi Q7 V12 TDI!
If you want to know any of the other results, head over to Pistonheads where you'll find a list!