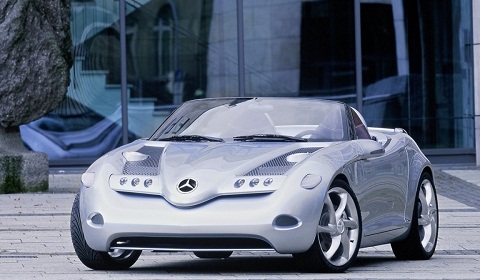 If rumours are to be believed, Mercedes-Benz engineers are working on a production version of the Mercedes-Benz Vision SLA unveiled in 2000 at the Detroit Motor Show. The car would be a front-wheel drive, direct competitor for the Audi TT and would be based on the new B-class architecture.
The original SLA concept was built on the A-class architecture and, despite never reaching production, signaled the introduction of the distinctive pointed front design. Now several news sources are suggesting that the car will be built as a 2013 model.
An all-new 1.6 liter turbo-charged direct-injection four-cylinder petrol engine is expected to be fitted under the bonnet. It's also thought that a new 1.8 litere four-cylinder turbo-diesel model could be offered.
Styling-wise, we hear that the new car will share its looks with existing Mercedes-Benz sports cars such as the SLK, SL and SLS. It's all rumours so far but it sounds promising!
[Via GoAuto]