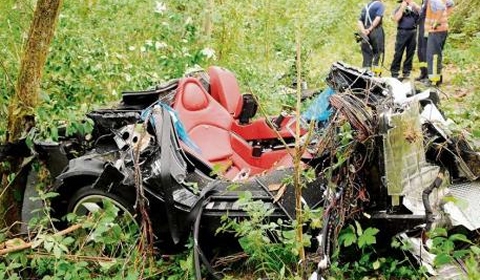 Monday morning around 10:30 two test drivers employees of a local Mercedes-Benz dealership were killed on a dual carriageway near Frankfurt am Main in Germany. While driving a four-year-old customer-owned Mercedes-Benz SLR McLaren for a test drive, the driver lost control and crashed into the woods next to the road.
The supercar stopped between trees and bushes. The wing doors were torn off, the 626hp engine thrown out of the body work. The red sports seats were empty, the bodies of the two men were found back somewhere in the woods close to the car. Police spokesman Andrew Beese said:
The road is a wide open highway without any speed limit. It is eight kilometers long, and has almost no curves.
Shortly before the open highway, the highway 8 at Kelkheim (Hessen) is a single track and only 80km/h is allowed. At this specific section of the road, the McLaren hit the right guardrail, flew nearly ten meters high, brushed the tree tops, sailed a further 35 meters, and crashed down a steep slope. The driver and passenger were ejected and killed instantly. Both were seen as professionals behind the wheel, both young fathers!
Update: More pictures right here!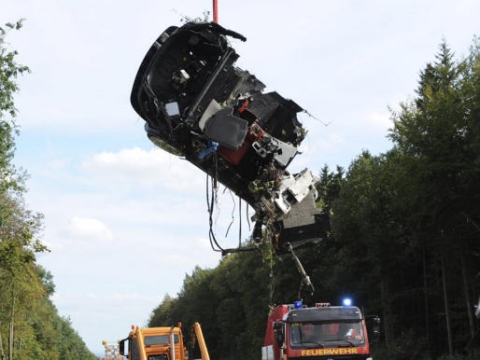 [Via Bild.de]