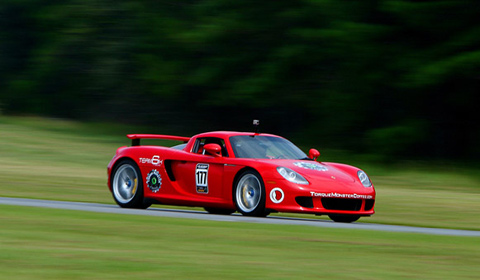 Flatout Motorsports organized a trackday at Roebling Road in Savannah, GA last weekend, our reporter and photographer Chris Grosser went to check it out! The track weekend featured over 45 of the most expensive and high-horsepower cars ever seen at a Roebling Road track weekend. It's not too often that you see a Carrera GT in Georgia and all of the fans loved watching every second of its high revving V10 engine in action.
Some other beautiful cars in attendance: Lamborghini Superleggera, Audi R8 V10, Nissan GTRs, multiple 997 GT3s, Mercedes C63 AMGs, BMW M3s, Mustang Boss 302, Corvette C6 Z06, and many more. View the photos for a quick recap of some of last weekend's action.
Roebling Road Raceway originally opened in 1959 and is one of the most challenging and fastest tracks in the Southeast of the United States. The 2.02-mile asphalt tracks consisting of nine turns is located just 20 miles from the historic downtown of Savannah, Georgia.
[Photography by Chris Grosser]