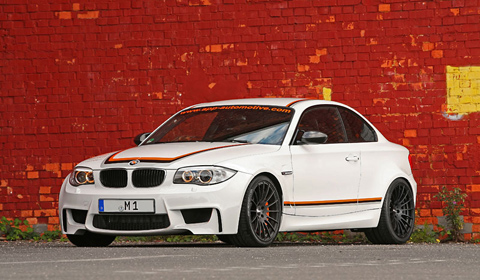 APP Europe send us images and information on their APP BMW 1-Series M Coupe. APP is one of many tuning companies now offering packages for the BMW 1M. The APP BMW 1M packs 410hp and overall has been aimed at reducing weight to improve handling and performance. It also includes improved brakes and a suspension system that can be controlled through an iPhone and iPad application.
PRESS RELEASE
APP Europe adopted the 1 M Coupe in Igling, Bavaria which was called the most "uncompromisingly intensive" BMW and designed a car for everyday use with a unique combination of performance characteristics and light construction; this car is suitable for both track events and personal use and pleasure.
Basic parameters were aimed at lightweight construction and suitability for everyday use, better performance characteristics and good handling. In cooperation with System and Technology APP was able to create a new hit.
MR. Car Design from Erfstadt is responsible for the power increase from 340hp (production cars) to 410hp. Larger intercooler, silicon tires as well as appropriate software make it possible. Undoubtedly, a crucial role in the power increase is played by the lightweight titanium exhaust system with a new muffler inlet pipe, Metallkats with larger diameter. 50% weight saving compared to mass production is a good example of effectiveness of this system.
The steam hammer is equipped with 6 piston cramps of disk wheel braking system on the front axle and 4 piston cramps on the rear axle due to the optimization of the weight of the braking system Movit Cer Ceramic and therefore it is able for the forced braking power which is evident. ATS super light wheel rims with a set of P Zero tires by Pirelli perfectly fit into the whole picture and contribute to the weight savings and better maneuverability.
A new car Variante 3 + suspension system with the direct digital control from iPhone/iPod touch App – muffler creates a link between daily comfort and absolute suitability for fast driving. An interesting processing of the tires with foil which repeats the interior color (orange, black and gray) is made by ZFZ Weilheim.