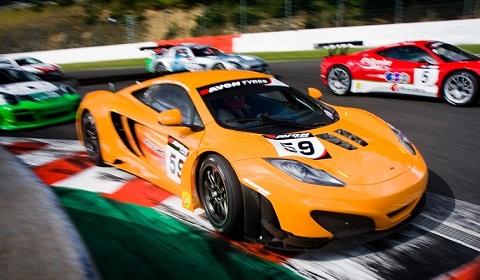 Thanks to our friends over at RPMVision, we can bring you some details on how testing for the McLaren MP4-12C is going. They were lucky enough to be invited to photograph several rounds of testing at Spa Francorchamps. The customer racer is currently undergoing the final stages of testing and will be ready for customer deliveries in 2012.
The MP4-12C GT3 features the same 'M838T' twin turbo 3.8 liter McLaren V8 engine found in the road going car, only it has been de-tuned to 500PS, and limited to 7,500rpm, to provide optimum performance. McLaren's carbon fiber MonoCell with aluminium front and rear frames and bespoke carbon body panels provides the basis for it. The GT uses a six-speed sequential gearbox with actuation via the steering wheel mounted paddles. Aerodynamic modifications are minimal as the car was developed alongside the street legal MP4-12C, but they do allow the car more downforce.
The number 59 car, a homage to McLaren's first Le Mans victory in 1995, first ran in the British GT Open at Circuit Spa Francorchamps where the car finished in fourth with Chris Goodwin and Andrew Kirkadly at the wheel. Later three cars were entered into the 24 hours of Spa Francorchamps, numbers 58, 59 and 60. Numbers 58 and 59 had a hard time at the race with engine failure and an accident bringing an end to both teams competitiveness; car number 60 managed a respectable 25th with Adam Christodoulou, Glynn Geddie, Phil Quaife and Roger Wills at the wheel.
You can see the pictures in the gallery below, more are available here and we hope that you enjoy them!