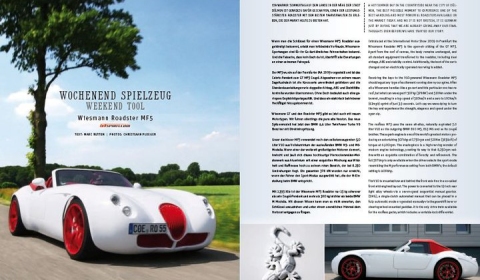 Prestige Cars is a glossy magazine which is published in German and in English with an emphasis on cars and aimed at a wealthy, predominantly male target group. The magazine appears with 50,000 copies and is published at kiosks, at hotspots like luxury hotels and in airplanes (e.g. SwissAir).
The Summer 2011 publication from Prestige Cars includes numerous sports and supercars, like the Lamborghini Performante, Carlsson C25, Rolls-Royce Phantom Coupé, Audi RS5, Oakley Design Italia, BMW X5 M, Bugatti Veyron, Ferrari 250 GT Cabrio and the Subaru WRX STI.
GTspirit is an exclusive partner of Prestige Cars magazine and shares their content with the magazine. In the latest publication you will find our Wiesmann Roadster MF5 road test.
For those of you interested, the upcoming 2012 Prestige Cars calendar will appear in a limited series of 500 pieces. Reserve your copy via calendar (at) Prestige Cars (dot) com.