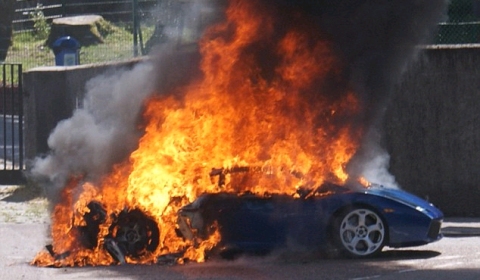 In less than a week a second Lamborghini Gallardo has burst into flames. A driver in his 40s was motoring through the Scottish landscape on Saturday when smoke started pouring from the engine bay of his blue Italian sports car. He quickly pulled over near a hospital in Fort William and rushed inside to get a fire extinguisher.
By the time he returned the vehicle was well alight and he could only watch as his car was reduced to a wreck. A fire crew from Fort William Fire Station rushed to the scene and extinguished the fire. The result is visible on the pictures. The wreckage was eventually towed away by a local garage.
The engine fire in Scotland follows after a similar first generation Gallardo burst into flames without any apparent cause. The vehicle was test-driven by a Norwegian rap star and caught fire next to a McDonalds.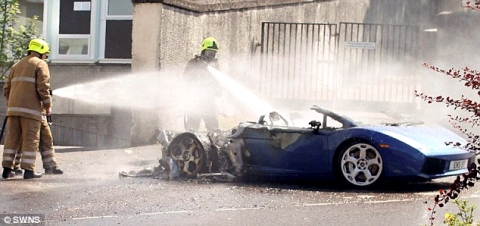 [Via DailyMail]