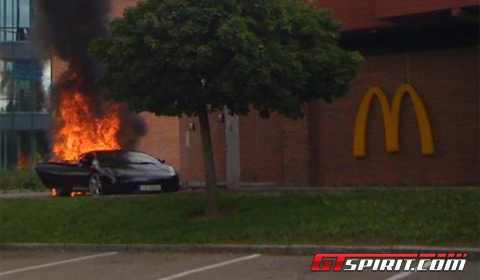 A Lamborghini Gallardo caught fire in a McDrive in Furuset, Norway today. The driver of the Gallardo was Norwegian rap star Tshawe Baqwa from the group Madcon. He walked away from the unfortunate Lamborghini fire unharmed.
It's not the first Lamborghini Gallardo of the earlier generation that burned down, we have seen a Lamborghini Gallardo SE on fire on the Nurburgring and a case of arson with a Gallardo Spyder in Belgium.
The McDonalds was quickly evacuated and the fire department got the Lamborghini fire under control beginning of this evening. Its always sad to see such a beautiful car burn, in this case Tshawe Baqwa will have something to explain to Norwegian shipping magnate John B. Ugland who owns the Gallardo and borrowed it to him.
[Thanks to Johannes for the tip!]