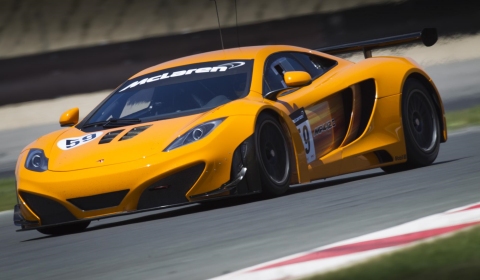 McLaren GT returns to the Spa-Francorchamps circuit this weekend for Total 24 Hours of Spa, following a race debut there in the British GT Championship early in July. The second race in the MP4-12C GT3's development program will see ten racing drivers pilot three cars in the 12C GT3's first ever 24 hour race.
The McLaren GT driver line-up for the Total 24 Hours of Spa includes CRS Racing Team Principal Andrew Kirkaldy and McLaren Automotive Chief Test driver Chris Goodwin. Both are Directors of the new McLaren GT company, which is led by McLaren Group CEO Martin Whitmarsh and includes McLaren Racing Head of Vehicle Engineering Mark Williams. The McLaren MP4-12C GT3 drivers for Total 24 Hours of Spa are:
Pro-Cup category
Car 58 (McLaren GT):
Rob Bell – GB
Chris Goodwin – GB
Tim Mullen – GB
Car 59 (McLaren GT):
Andrew Kirkaldy – GB
Álvaro Parente – POR
Oliver Turvey – GB
Pro-Am Cup category
Car 60 (McLaren GT and VonRyan Racing):
Adam Christodoulou – GB
Glynn Geddie – GB
Phil Quaife – GB
Roger Wills – NZL
McLaren GT is using the 2011 race season to develop the 12C GT3, with twenty cars due for delivery to privateer teams for GT3 series racing in 2012.