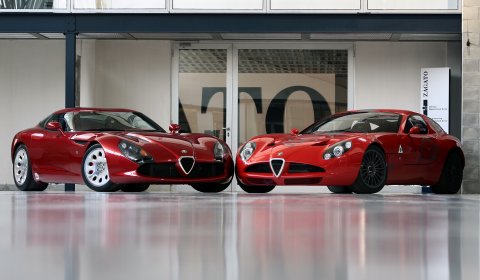 Brendan O'Toole, founder and Managing Director of CPP, the specialist British coach builder, and Andrea Zagato have confirmed today that the two businesses have successfully started a joint venture, which has been registered in Italy as CPP Milan in July 2010.
The news follows after initial rumours released at the beginning of this month. Zagato has been a CPP customer for several years, delivering production of designs such as the 2008 Bentley Continental GTZ. CPP is known because of its owner Vladimir Antonov and recent purchase of Spyker sports car section, Bowler and UK football club Portsmouth FC.
In recent years, several specialist automotive design houses and coachbuilders have closed or been acquired by global high volume vehicle manufacturers. CPP and Zagato formed the CPP Milan joint venture to ensure their long-term independence and take advantage of the opportunities left by the exit of their competitors from the industry. Both will jointly oversee projects such as the critically acclaimed 2011 Aston Martin V12 Zagato, now confirmed for limited-run production.
Brendan O'Toole said:
In an industry where so many design houses and coachbuilders over-expanded and attempted high volume outsourced manufacture before failing, the independent Zagato brand and its designs retain a mythical, iconic, aspirational status. For that reason, the world's luxury car brands continue to want to work with Andrea and his team and I saw huge advantages for us in developing a closer relationship, leading to the formation of the CPP Milan joint venture, which has delivered to the various ambitious targets set for it.
Andrea Zagato said:
It was quite clear for several years that our creations were complementary with CPP's manufacturing capabilities. We discussed the idea of a more advanced relationship in early 2010 and the increasingly challenging conditions facing the entire automotive industry prompted us to accelerate the process. Through / By establishing the CPP Milan joint venture, we have guaranteed the independent status of the Zagato brand ensuring the continuity of a tradition that began in 1919.