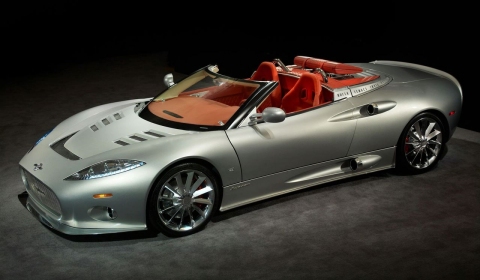 Spyker Cars is a Dutch hand-built automobile manufacturer and the owner of Saab Automobile. Two days ago we heard the news that the Spyker C8 Aileron is finally ready for production, but today it became clear that Spyker Cars is negotiating to sell its sports car business.
The sports car business will be sold to UK holding company CCP Global Holdings, which is owned by Russian billionaire Vladimir Antonov. According to Victor Muller, the Dutch CEO of Spyker Cars and chairman of Saab, the sale will separate the capital structure of Spyker and Saab:
Without Spyker we would not have been able to acquire Saab Automobile last year but the Spyker business soon became a small fish in a large pond as a result.
Vladimir Antonov, said:
Having created an enviable portfolio of premium, world-class automotive companies and brands over the past two years with CPP, we are convinced that Spyker will flourish within the CPP Group. We are delighted to be bringing more investment and job opportunities to Coventry, and we hope that this further cements its reputation as the heartland of the automotive industry in the UK.
Spyker was once the brainchild of Victor Muller, but now he wants to focus solely on the Saab business to make this company profitable. Therefore he will sell the manufacturer of exclusive supercars which has struggled to make money. According to the last available data, Spyker sold 36 cars in 2009 and has been losing money since it sold shares for the first time in 2004. Selling Spyker will reduce the debt and will reinforce the balance sheet from which both Spyker and Saab will profit.
What does the future hold for Spyker? Will this mean that the Spyker D8 Peking-to-Paris will be produced or can we expect an expansion the line-up? Feel free to share your thoughts.