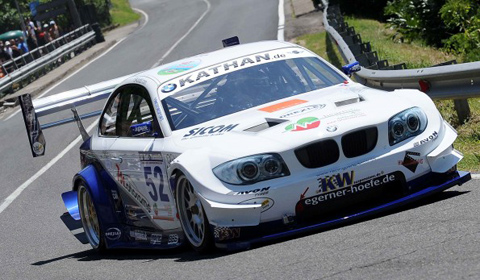 German Hill Climb driver Georg Plasa, died shortly after 14.00 on July 10th 2011 during the Coppa Carotti Hill Climb.
The Coppa Carotti Hill Climb that goes from Rieti to the ski resort of Terminillo in the Italian Apennine mountains was held for the forty-eight time. Georg Plasa was driving his BMW 134 Judd when he crashed into the mountain shortly after the fourth bend. Immediate relief efforts to try to revive the driver didn't help.
Georg Plasa was a very experienced hill climb driver and had many successes in his hill climbing carreer. The exact cause of the accident is still unknown, but officials suggest there might have been a technical error. The organizers suspended the race after the crash.
We wrote about Georg Plasa and his BMW 134 Judd for the last time in May of this year. As you can see in the videos of one of his many Hill Climb races in the FIA European Hill Climb Championship, this sport is not for the fainthearted and is among the most intense things you can do on four wheels. Our best wishes the family and friends of Georg Plasa, we will remember him…
Onboard video of the Rieti Hill Climb by another team:
A tribute to Georg Plasa:
[Pictures courtesy of Rietilife.it]