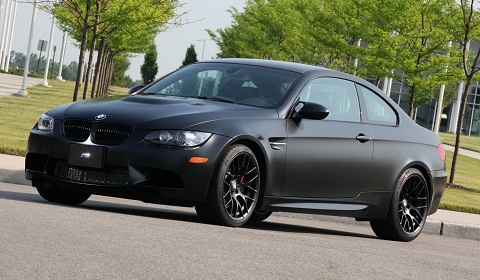 For those of you unaware, Thursday morning BMW of North America opened the ordering process for the limited edition 2011 Frozen Black Edition M3 Coupé. Liminted to only 20 units, the special German sports car was sold out in 22 minutes, ten minutes longer than the Frozen Gray version.
Nineteen of the twenty Frozen Black Edition M3 Coupes will be heading to their owners in late June 2011. By the end of July 2011 every owner should have received their vehicle. The twentieth car will be held by BMW of North America and may be sold at a later date.
The special edition flat Individual Frozen Black paint and 19 inch GTS wheels will be the most noticeable feature of this car. The black colour scheme continues to the kidney grilles, fender vents and exhaust tips. The final modifications include contrasting red-colored brake calipers, black leather interior with red stitching and carbon fiber accents, 10mm lowered suspension and sports mapping for the EDC/DSC.