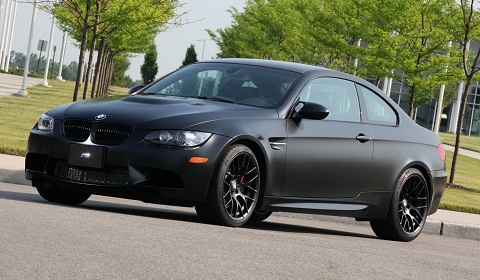 Limited editions seem to be the latest fashion at the moment. BMW have announced that they will be bringing another $ 79,650 (~ € 55,500) limited edition M3 Coupé to the US market. Only twenty will be sold on the US market and it'll be likely that these will sell out quickly.
The special edition flat Individual Frozen Black paint and 19 inch GTS wheels will be the most noticeable feature of this car. The black colour scheme continues to the kidney grilles, fender vents and exhaust tips. The final modifications include contrasting red-colored brake calipers, black leather interior with red stitching and carbon fiber accents, 10mm lowered suspension and sports mapping for the EDC/DSC.
As a power plant, the M3 Frozen Black Edition has the same standard 4.0 liter, 414hp V8 engine coupled with BMW's M Double Clutch Transmission. Calling 1-800-245-4269 on Thursday, June 16, 2011 will get you one of these car's but be quick, only 19 are on offer with BMW North America holding the final one for sale some time in the future.