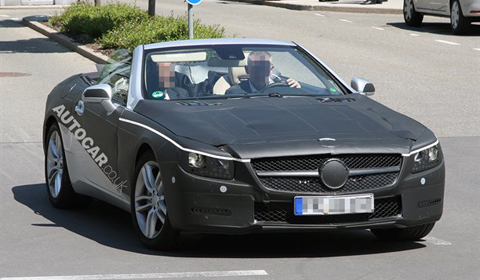 Mercedes is working on the next generation of the SL-Class convertible. The current version of the SL, the R230 was introduced in 2001 and received a facelift in 2006 and a major one in 2008. This last facelift of the SL resulted in a new, more aggressive front end which reflected the new design philosophy of Mercedes.
The Stuttgart based company is currently busy with developing the new SL, the R231. The new SL will be engineered from the ground up, mainly as part of a program to drastically reduce the sports car's weight. The high-strength steel body structure of the current SL will be replaced with that of aluminum. Thanks to the use of this lighter material the upcoming SL and its variants reportedly weigh 200 kilograms less which would benefit both the performance and emissions.
According to rumors, the styling of the new SL should reminiscent the lines of the new SLK, although the SL will retain the dimensions of the current model. The optional Magic Sky Control glass which was introduced in the SLK will be available in the SL as well. This roofs can be made either transparent or darkened with at the touch of a button.
Beneath the bonnet there will be a 300 horsepower V6 and biturbo V8 which provides 430 horsepower. More engines will be available as well, but it is unknown if this car will be powered by an V12 since environmental concerns resulted in the downsizing trend. Without a doubt we can expect an AMG variant in the future, supposedly to be powered by an 5.5 liter V8.
The current SL is manufactured in the northern German city of Bremen, but the next model will be assembled at Mercedes' main factory in Sindelfingen near Stuttgart where the majority of the company's aluminum-based models will be produced.
The new SL will makes it first public appearance next year. So stay tuned for more news!