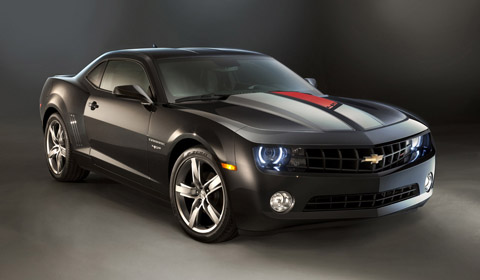 General Motors has officially unveiled a special edition of the Chevrolet Camaro to commemorate the 45th anniversary of this pony car. This car also shows the improvements and new details for the 2012 model year.
The 2012 Chevrolet Camaro 45th Anniversary Edition was unveiled on the eve of the Indianapolis 500. This special edition is powered by a new 3.6 liter direct injection V6 which delivers 323 horsepower at 6,800rpm – an increase of 11 horsepower over the 2011 engine.
The 45th Anniversary comes with aluminum wheels, P245/45 R20 tires at the and front and P275/40 R20 at the rear. The car also received the new FE4 suspension which is developed to improve the performance and handling of the car. This suspension will be used in the 2012 model of the Camaro SS Coupe as well.
The 45th Anniversary Special Edition brings more upgrades that will find their way to the complete Camaro lineup. The interior updates include a revised instrument panel design, with new instrument graphics and trim, as well as a new steering wheel design and a power lift feature for the front passenger seat. The steering wheel features a new look and ergonomic improvements intended to support performance driving.
Also new for the Camaro in 2012 is the rear vision package, which adds a rearview camera system and an auto-dimming mirror to the existing rear park assist feature. The rearview camera system complements the rear parking assist by providing a video display of the area behind the car, with the video image appearing in the car's inside rearview mirror.
Some unique design elements of the package are the special red/silver rally stripe on the bonnet that contrasts the carbon black, white door inserts, a medallion at the bottom of the steering wheel and some red, white and blue stitching on the steering wheel, seats and shift knob. The package also includes special logos on the fenders, seat backs, door sills, steering wheel and dashboard.
The 45th Anniversary package is will be available in limited numbers, although Chevrolet has yet to say how many. This special edition will enter the market this summer.