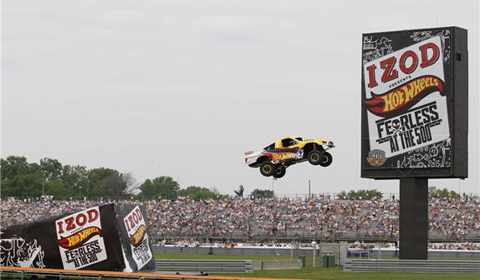 Before the start of the 100th anniversary of the Indianapolis 500 last Sunday spectators could watch a world-record jump attempt by Team Hot Wheels.
A truck driven by Top Gear USA host, three-time X Games gold medalist and professional stunt driver Tanner Foust succeeded in setting a new world for four wheeled vehicles by jumping an impressive 332 feet (101,2 meters). The 37-year-old Faust and others spent months practicing the jump.
Watch the video below to see Foust sped down from the 90 feet (27,5 meters) tall ramp and flew across the infield of the Indianapolis Motor Speedway.