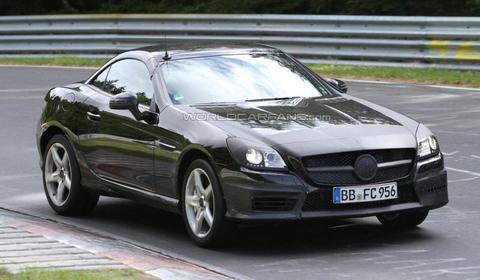 Little less than two months ago we showed you spyshots of the upcoming 2012 Mercedes-Benz SLK AMG. Thanks to our colleagues from WorldCarFana we can now show you new pictures that show more details.
The pictures were taken on the Nürburgring where two cars, one in black and one in red, were caught testing. The test cars will be officially presented during the upcoming IAA in Frankfurt.
The biggest secret is still under the hood. The 2012 SLK AMG might come with a normally aspirated 422bhp strong 5.5 liter V8 or with a 451bhp strong 6.2 liter V8. Last option is a detuned version of the 5.5 liter twin-turbo V8 that normally produces 537bhp together with 800Nm of torque.