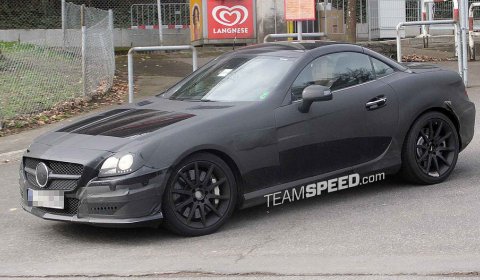 Teamspeed spies have caught another set of pictures of the new AMG version at Germany's challenging Nürburgring race circuit: the SLK 63 AMG!
In the pictures you will spot the quad-tip exhaust, sportier wheels and tires and cross drilled brake rotors. We can also see a deeper air inlet in the lower fascia.
What's lurking under the hood is still a toss up. The latest 5.5 liter, twin-turbo V8 might be the engine of choice. Teamspeed states they have heard rumours that Mercedes is working on a twin-turbo V6. More to follow soon!