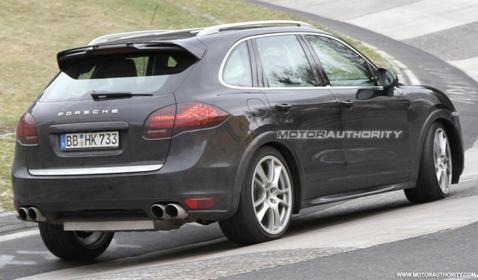 The newest generation Porsche Cayenne is on sale for about a year now, so it is time for some special editions to be announced. Last week a Cayenne Turbo S was spotted while testing at the Nürburgring, Germany.
The 2012 Porsche Cayenne Turbo S will be officially presented to the public during the Frankfurt Auto Show next September and will come with the same 4.8 liter V8 fitted to the current Cayenne Turbo. Difference is the output, the Turbo S is expected to have 550bhp, which is 50 horses more than the standard Turbo.
The Cayenne Turbo S will come with a slightly revised body kit, new wheels, possibly an increased vehicle track width, as well as an extended amount of trim options for the cabin. The power SUV will also get a lower front bumper, additional aero parts at the bottom of the doors, and a four-pipe rear diffuser.
Click here for more spyshots of the new Cayenne Turbo S!