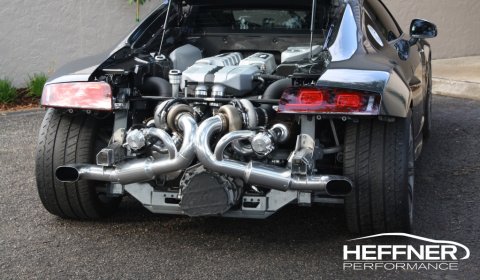 For the past several months Jason Heffner and his team at Heffner Performance have been working on the development of their Audi R8 V10 Twin Turbo program. The finally result has been released and is showcased right here.
The new system uses twin Garrett GT35R turbos pumping out 6 psi of boost producing 725 awhp, which is 225 more than stock. Jason Heffner states:
To date I would have to say that this is the most refined aftermarket twin turbo car that I have ever experienced. Exhaust noise levels can be quieted down to near stock levels with the larger mufflers and can be a bit louder with the smaller mufflers. We worked with the guys at European Performance Labs to engineer the engine calibration and the job that they did is nothing short of spectacular. Power delivery is very smooth and linear and the whisper of spooling turbos makes the hair stand up on the back of your neck.
Eurotech Motorsports in New Jersey and their customer John provided the dark grey Audi R8 V10 for development. The exclusive turbocharged sports car will be used for regular track days.