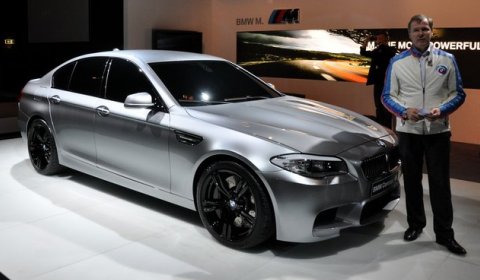 Thanks to a Russian carblog we have the ability to check out the all-new 2012 BMW F10 M5 ahead of its official debut at the Shanghai Motor Show.
Friday the 1st of April was all about M Power and BMW. During a media event in Munich a select group of journalists got the change to attend a day which showed them the BMW M3 Pickup, M3 Saloon Concept and a tour through the hidden garages at the BMW M facility in Garching showing them a 1990 BMW M8 Concept and V12-powered BMW X5.
The main event was all about the F10M M5 presented to the lucky journalists. One of them, took some pictures of the brand new M power saloon, and broke the embargo. Luckily he did because this is the brand new 2012 BMW F10 M5 or 2012 BMW F10M M5. It is the first M car which has been given a specific internal name, that is why they included the additional M.
Feel free to share your thoughts on the brand new M Power luxury saloon. For BMW lovers it must have been a wonderful day at the factory.