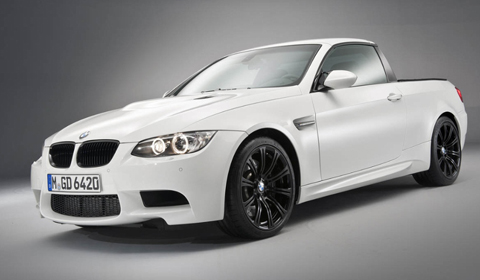 A few weeks ago we were surprised by some photos and a video featuring a BMW pickup driving around the famous Nürburgring. Today the Bavarian automaker officially unveiled the world's fastest pickup.
Presented as the fourth member of the BMW M3 model family, the pickup is a great addition next to M3 Coupé, BMW M3 Convertible and BMW M3 Sedan. The world's first high-performance pickup has been created at the BMW M GmbH development center and was tested under the strictest secrecy.
Powered by a high-revving V8 engine at the front which produces 420hp and a rear-axle load capacity of up to 450 kilos, the pickup will take the relationship between race-oriented driving pleasure and everyday utility to an entirely new level.
Fine-tuned aerodynamics and measurements in the wind tunnel showed a Cd factor on a par with that of the M3 Coupé. The M3 Pickup has shown its potential on the North Loop of the Nürburgring. Official lap times have not yet been released, but the needle reached for a top speed of 300km/h. For an even more track-based performance the targa roof can be removed. This shaves off a further 20kg while at the same time lowering the car's center of gravity.
The M3 Pickup provides the biggest cargo capacity ever offered on a BMW M vehicle. In terms of the unit of measurement generally applied to premium automobiles, that gives the loading area of the BMW M3 Pickup the capacity to carry up to 20 standard 46 inch golf bags. What's more, the BMW M3 Pickup is the first BMW M3 variant in the 25-year-plus history of this model range to come with a trailer tow hitch.
The BMW M3 Pickup will not be heading for the golf course or series development, but will retain its status as an exclusive one-off. The car is developed for use as a workshop transport vehicle for BMW M GmbH. Interestingly, according to its road certification the BMW M3 Pickup is officially a truck – but one that puts a whole new spin on the meaning of the word.
What do you think of this car presented on April Fools' Day?