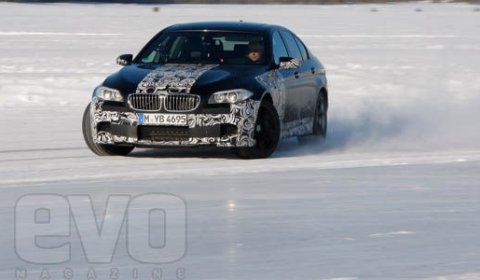 EVO journalist Chris Harris got the chance to drive the upcoming 2012 BMW F10M M5, the first M car which has been given a specific internal name.
The vehicle is powered by a 4.4 liter V8 engine with twin-turbochargers with unspecific modifications to both intake and exhaust systems. There is a seven-speed DCT dual clutch transmission with three different shift speeds and a fully automatic mode. The performance figures have not been revealed, but rumours expect a total of 600hp.
The setup of the vehicle is saloon only for now, but a touring will follow later on.
Chris comments regarding the power saloon:
Is turbocharging a highlight? When it makes a car this flexible and plain accelerative, it has to be. Yes, the near-insanity of the old V10 makes way for slightly reduced throttle response, but it's marginal. On a Swedish lake, you can still make tiny adjustments to sustain that all-important 1km drift. Does it feel turbocharged? A little bit. Does it make enough induction noise? No. But this isn't the finished car, the BMW M-gurus insist that the final product will be different in this respect.

I only drove the car on snow, ice and the occasional patch of asphalt. It felt like an M-car in the correct sense: purposeful, but not too aggressive. The steering, chassis and powertrain each have three modes: comfort, sport and sport-plus, giving a myriad of options. The MDM (M Driving Mode) brings a higher threshold DSC intervention that requires steering correction from the driver, or you spin, It works brilliantly. Switch it all off and you have a circa 560bhp, rear-wheel-drive saloon with an LSD. If you can't enjoy that, you're a wally.

I can't tell you much about ride comfort and steering yet, except that with the suspension set to comfort the car is compliant but never soft. The steering is faster than in a regular BMW 5-series.