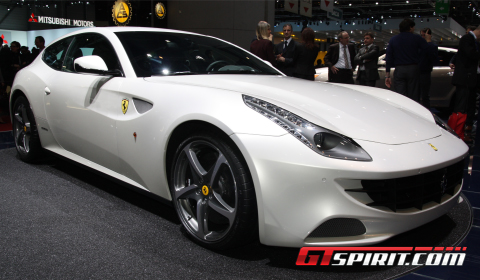 After presenting the 2012 Ferrari FF online, Ferrari finally gave us a public viewing of the new vehicle at this years Geneva Auto Salon. We managed to get a few up-close pictures of Maranellos latest four-seater GT. The FF is definitely one of the stars of this years show and it takes center stage on the Ferrari platform.
The FF, which stands for Ferrari Four, is the first four-wheel drive supercar to come from the legendary Italian car manufacturer. It features a V12 powerplant producing 660hp at 8,000rpm and torque of 683Nm at 6,000rpm; enough for a top speed of 335km/h and a sprint from zero to 100km/h is of 3.7 seconds.
The car is a replacement model for the ageing 612 Scaglietti. The design language comes from the 458 Italia with similar headlamps being just one of the features carried over. Ferrari have been keen to push the abilities of the FF, announcing it's suitability in the snow, rain, sand and mud. Whilst some owners might actually use this car every day, we suspect it won't be going off road too often.
For more details on Ferrari's new GT, follow this link. Otherwise, take a look at the gallery below and keep an eye out for more news from the Geneva Auto Salon 2011 show floor!
Update: more pictures added.