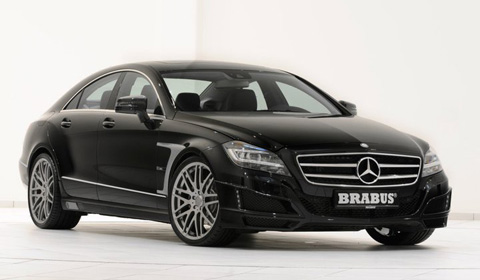 Brabus already presented their new Mercedes CLS program and a few days ago they released a teaser which led to speculations of a new V12 powered Brabus Rocket. In the slipstream of this teaser Brabus has released more pictures of the latest addition to the Mercedes line-up, the 2011 CLS.
The CLS 250 CDI BlueEfficiency model equipped with the Brabus Eco PowerXtra D4 Package delivers and additional 31hp and produces a peak torque of 560 Nm. For the CLS 350 CDI, Brabus offers another package that will boost the power from 261 to 309hp. In 'Eco'mode only peak torque is increased from 620 Nm to 690 Nm while the maximum power output remains unchanged. If the 'Sport' mode is selected, both peak torque and power output are increased. This results in acceleration from 0 to 100km/h in 5.9 seconds and a limited top speed of 250 km/h.
The CLS has been lowered by 30mm. The four door coupe received a new front bumper with bigger air intakes, a front splitter and new LED daytie running lights. Distinctive are the sport fenders. The sill skirts give the four-door an even lower, sleeker stance. Four tailpipes of the sport exhaust system gives the CLS a more impressive and sporty look while the rear appearance is rounded out with a spoiler.
The tuning program also includes various interior updates, like a sport steering wheel, various materials for the upholstery, high quality clear-coated carbon-fiber inlays, aluminum pedals and a 340km/h speedometer.
Brabus has said they will show a couple of sensational world premieres at the Geneve Motor Show, so we will have to wait a few more days. Will the new Brabus Rocket be there?
Please stay tuned for more news from Geneva!