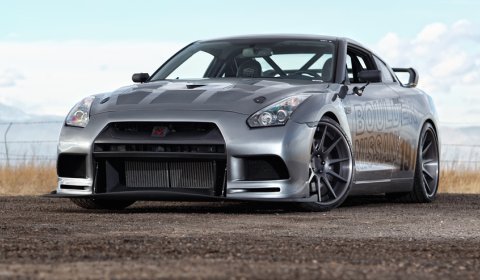 Tuning a sports car can have a wonderful project with an successful and improved result. An example of such a sports car project is this epic Nissan GT-R aka Godzilla developed by the guys from ADV.1 wheels, Switzer Performance Innovation and Technocraft.
The car got a decent list of options, which contains a Switzer P800 package, a carbon fiber package and a set of ADV1.10 deep concave three-piece wheels sizing 21×10.5 and 21×12 and outfitted with Pirellis 295/25/21 in the front and 375/20/21 in the rear.
You can check out the full list of modifications below. The gallery we have selected includes pictures made by Ronnie Renaldi.
EXTERIOR
– Top Racing dry carbon hood (painted body color) with aero catch flush latches
– Top Racing dry carbon front bumper (painted body color on the "outside" with the dry carbon center and splitter)
– Custom reinforcement bar powder coated black with additional tow hook locations, cooling passages and splitter reinforcement mounts
– Top Racing dry carbon lower rear valance
– Craftsquare Super GT carbon mirrors
– Factory side skirts painted body color
– Varis carbon side skirts
– Titek carbon vents
– PWJDM rear carbon canards
– PWJDM mid height carbon rear wing on factory deck lid (for street use)
– Aeromotion active rear wing mounted on AMS carbon deck lid (for track use)
– Tommy K smoked led front side markers
– Tommy K smoked led rear side markers
– Smoked rear tail lights
– Painted all emblems and door handles flat black
– All exposed carbon was refinished in matte
WHEELS AND TIRES
– ADV1.10 deep concave 3-piece 21×10.5 and 21×12
– Finished with matte black center, brushed gunmetal lip and barrel tinted clear
– Pirellis 295/25/21 fronts and 375/20/21 rears
PERFORMANCE
– Switzer P800 package
– Switzer Fuel Injector Kit
– Electronic Boost Controller
– Switzer Monster Intercooler Kit
– Switzer Upgraded Turbos
– High-Pressure Wastegate Actuators
– Switzer P800 Calibration for COBB AP
– Switzer MAF / Intake and Filter Assembly
– Switzer High-flow Turbo Intakes for Switzer MAF
– Switzer Off-Road Test Pipes
– Switzer Fuel System Upgrade
– Switzer upgraded radiator pkg
– Custom front mounted trans cooler (running Willall pan with Albins external pump to a Setrab core)
– Custom oil coolers (running two Setrab cores)
– Custom front diff cooler (running Willall fittings and pump to Setrab core)
– Custom power steering cooler (relocated and upgraded to Setrab core)
– Willall rear diff cooler
– Willall larger oil pan
– AAM downpipes
– CBRD mid pipe
– HKS Legamax rear exhaust
ENGINE BAY AND INTERIOR
– PWJDM carbon battery and brake covers
– PWJDM carbon plenum cover
– PWJDM carbon cooling shroud
– PWJDM carbon kick plates (door sills)
– PWJDM carbon rear speaker shelf with rear seat belt delete
– Rear seat delete
– T1 carbon seats (street and dragstrip)
– Racetech seats (for the road course)
– 6 point "half cage" with swingout/removable door bars
– Schroth 6 point harnesses
– Willall shift light
BRAKES AND SUSPENSION
– JRZ RS pro coil overs running 1200/1000 spring combo
– Dodson front upper control arms
– Dodson rear lower control arms
– Stillen adjustable sway bars
– Braided brake lines
– PFC rotors with PFC pads
– Willall brake mister system
[Via L4P]